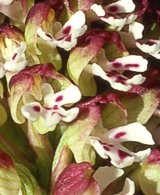 Neotinea ustulata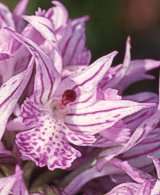 Neotinea tridentata
Gargano, a mountainous promontory of northen Puglia (Italy), surprise for its historical and cultural interests, but especially for its naturalistic ones.
The whole area is characterized by a changeable flora, so that it may be considered one to the most beatiful Italian landscapes.
The particular geographic position of Gargano, its morphology and its changeable habitats have favoured the growth of a diversified flora: what with typical Mediterranean plants and alpine ones, you can find more than 2500 species, that is 35% of the whole national flora. A perfect open-air botanical laboratory!
Gargano may be defined the paradise of the spontaneous orchids: 92 species.
Some are common, some live only in this region and in very few other ones, practically endemic, such as Epipactis meridionalis; Ophrys mattinatae, O. cinnabarina, O. holosericea subsp. apulica, O. exaltata subsp. archipelagi, O. bertolonii subsp. bertoloniiformis, O. argolica subsp. biscutella, O. passionis subsp. passionis (O. garganica), O. lacaitae, O. lojaconoi, O. melena, O. holosericea subsp. parvimaculata,O. promontorii and O. sipontensis; Orchis quadripunctata and Serapias orientalis subsp. apulica.
A lot of botany scholars and tourists, coming from abroad too, visit Gargano in spring, especially Mattinata, when orchids are in full bloom, and their number increase as years go.
Mattinata has got sites with the largest concentration of orchids: 60 species and several ibrids.
But the whole Gargano is rich of these plants, Whose flowers are strange and multicolour.
In fact, the flowers of some species of orchids are like insects, such and bees, wasps, spiders, bumble-bees and son on, by which these plants area pollinated thanks to their likeness. A pleasant hoax of which the victims area male insects!
A complete description of the orchids of Gargano is in the book published in Foggia in 2014 by
Angela Rossini
and
Giovanni Quitadamo
.